LandGlass has not only set up a complete and strict quality management system to ensure the long-term sound running of its tempering equipment, but also offers a after-sales service to support our customers and help them to optimize and bring more performance to their furnaces.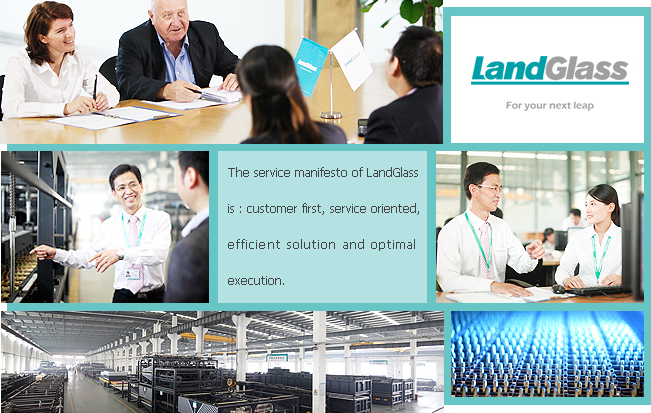 LandGlass's complete and systematic after-sale service can deliver its technology service quickly to reduce equipment malfunction possibility and shorten downtime. It includes:
① Remote diagnosis to provide zero-distance service. LandGlass's special remote diagnosis system can diagnose and handle equipment malfunctions remotely. With clear and straightforward video interface, LandGlass technicians can carry out real time supervision, guiding customers on site operate, maintain and troubleshoot their production lines.
② Establishing localized service agencies to deliver quick service. LandGlass's overseas proxy system has excellent technicians and spare parts storage locations which can provide local users with fast and convenient services and spare parts support. Moreover, LandGlass has actively formed partnership with local electromechanical companies to diversify our ways of providing on-site service to our customers.
③ Employing foreign employees to get rid of visa restraints. LandGlass has hired many foreign employees to completely avoid any delays caused by the processing of foreign visa applications, which ensures the quickest response.
④ Preventive maintenance service and active communication. LandGlass has formed a professional team that will visit customers regularly. By flexible ways such as training and symposiums, customer's questions on equipment maintenance, quality management and production management will be solved. Meanwhile LandGlass invites users to visit us and hold a detailed discussions to resolve all questions about their equipment and the final product. We aim to provide the necessary services to satisfy our clients.
During the warranty period, LandGlass will provide a free of charge repair service. Moreover, for Chinese mainland customers who need the site check-up and maintenance service, LandGlass's technicians will arrive on site within 24 hours. For overseas users, the LandGlass agency system, will provide a fast response time.
The service manifesto of LandGlass is "customer first, service oriented, efficient solution and optimal execution". For us our customers always come first.